Official Blog of Darren Bowen Photography
Darren Bowen Photography Portrait Studio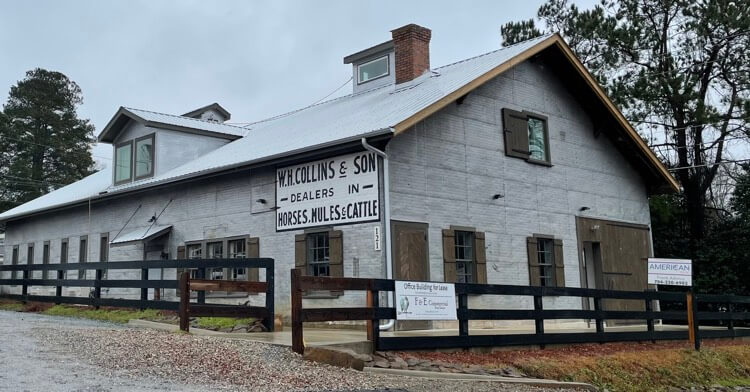 I am proud to announce that I have signed the lease on my first studio located within the central historic and business district of Waxhaw, NC, in a historic landmark building replacing the original Livery Stable. The building sat on the corner of South Main and Broome St, which sadly burned to the ground in 1932. The present-day W. H. Collins and Son "Mule Barn", as it's fondly referred too, stands today as a reminder of the bygone days of Waxhaw.
I couldn't be more excited to have a permanent location to serve the residents and business community in and around the Charlotte area. Over the coming weeks, we will be expanding our offerings, publishing new hosted events with a wide array of themed and speciality mini shoots; best of all we will be offering some fantastic savings.
Here are my plans for the coming months.
Charity
Each year I have supported various Childhood Cancer organizations during the Christmas season and donate proceeds to them. I desire to do more, and I support Claire's Army 100%, which serves families, loves kids, and fights cancer. Their mission is to empower parents by eliminating daily stresses that can distract them from the precious moments they have with their sick child. I will be donating a percentage of all portrait bookings year-round, 24/7/365, to Claires Army going forward.
Studio Sets
Over the coming weeks, I will be publishing new speciality themed mini shoots and a full menu of studio services. I am personally excited to discover fun themes such as Alice in Wonderland, Peter Pan, Toy Story & Harry Potter. Touring all the year's celebrations and seasons such as Valentines, Mothers Day, Easter and Halloween, and of course Christmas, let's capture all your family milestones.
Local Businesses
I will also be announcing some local Waxhaw business relationships I am creating to provide the most unique and cherished sets you could imagine and will not find anywhere else. Our collections are a priority and only the most authentic as possible. If you are familiar with our yearly Christmas sessions, you will know that we create pure magic, and our sets are unique and imaginative and create real magic.
Customer Service
I will be heading beyond providing digital files online and evolving to in-person appointments (in-studio or online) and present an enhanced and personalized customer experience making more of your photography from beginning to end.
Rewards & Savings
We offer incredible rewards for all our customers. When you create an account, you will receive your referral link to share with family and friends and earn up to $35.00 for each completed referral booking. We love to reward points for signing up, leaving reviews; whenever you book, we will reward you with one portraiture point for every dollar you spend. Rewards are unlimited and can be used to redeem for bookings at any time.
I will be posting about each of these subjects in greater detail in the coming weeks.